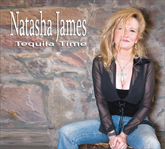 Natasha James songs play like cinematic vignettes, with vivid characters and a poetic lyricism... country steeped in blues and Tex-Mex with a nod to Janis Joplin and Emmylou Harris.
Musicians:
Natasha James -
lead vocals & rhythm guitar
Ian Lamson - lead & slide guitar
Herman Ebertizsch
and Ed Roth -
piano, B3, accordion
Woody Vermeire -
violin & backup vocals
Steve Evans - bass
Ronnie Rivera - drums
Kerry Daly - backup vocals
Rafael Padilla - percussion
Bobby Black - pedal steel
David Aguilar - Tex-Mex guitar, dobro
Ed Roth - Accordion, piano, B3
Tequila Time MP3s:

Tequila Time CDs:

Tequila Time Ringtones: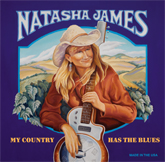 Limited Advance Edition
with Bonus Track
A dynamic assemblage of new tunes from Americana artist, Natasha James, with her signature blend of country, blues, and rock. Tunes on My Country Has The Blues range from the toe tappin ragtime blues of RAGTIME BREAKDOWN, to the Caribbean rhythms of ROOM 203 with that bari guitar reminiscent of the Bakersfield sound, to the American Indian drumbeat of ANGELS WITH BROKEN WINGS, to the gospel fired, uplifting swing of LIGHTEN UP YOUR LOAD, to the hard driving Southern rock of NASCAR TIME, to the lonesome prairie sounds of ENDLESS FRONTIER, and of course, the country rock soundtrack with a message, MY COUNTRY HAS THE BLUES, and more...this CD is every bit as compelling as both her previous releases, TEQUILA TIME and BAD JUDGEMENTS, and as you let the disc roll, you will find yourself wishing just like before, that it would never end.
Musicians:
Natasha James: lead vocals, rhythm guitars/resonator
Dave Aguilar: lead guitar on "Room 203", "Ragtime Breakdown" "Angels With Broken Wings"; dobro on "Endless Frontier"
James Harman: lead guitar "My Country Has The Blues", "Lighten Up Your Load", "Endless Frontier"
George Harris: lead guitar "NASCAR Time"
Herman Eberitzsch: B3, piano and keys, all tracks
Steve Evans: bass, all tracks except "NASCAR Time"
Randy Hock: bass, "NASCAR Time"
Ronnie Rivera: drums, percussion, all tracks
Mindy Canter: flute, "Endless Frontier" and "Lighten Up Your Load"
Kerry Daly, Mindy Canter, Russ Whitehead, James Harman: backup vocals
Tommy Thompson: duet lead vocals, "NASCAR Time" with Natasha James
My Country Has The Blues MP3s:

My Country Has The Blues Ringtone: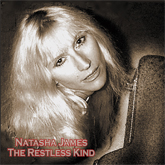 The Bad Judgements album is an adventurous travelogue that weaves Americana, blues, rock, Cajun and soul into a tapestry that is familiar and inviting.
Musicians:
Natasha James -
lead vocals & rhythm guitar
Thaddeus Reece, Carrick Montague - bass
Austin DeLone - Piano, B3, Wurli, Accordion
James De Prato - Lap Steel & Dobro
Mike Rinta - Trombone Michael Peloquin - Tenor & Baritone Sax
Martin Fierro - Tenor
Carlos Zialcita - Harmonica Danilo Paiz -Cungas, Percussion
Nikki Rose - Cello
Glide Church Memorial Choir: LZ Love, TJ Phoenix, Vernon Bush, Leah Tysse, Lila McDonald - Backup Vocals
Bad Judgements MP3s:

Bad Judgements CDs:

Bad Judgements Ringtones: